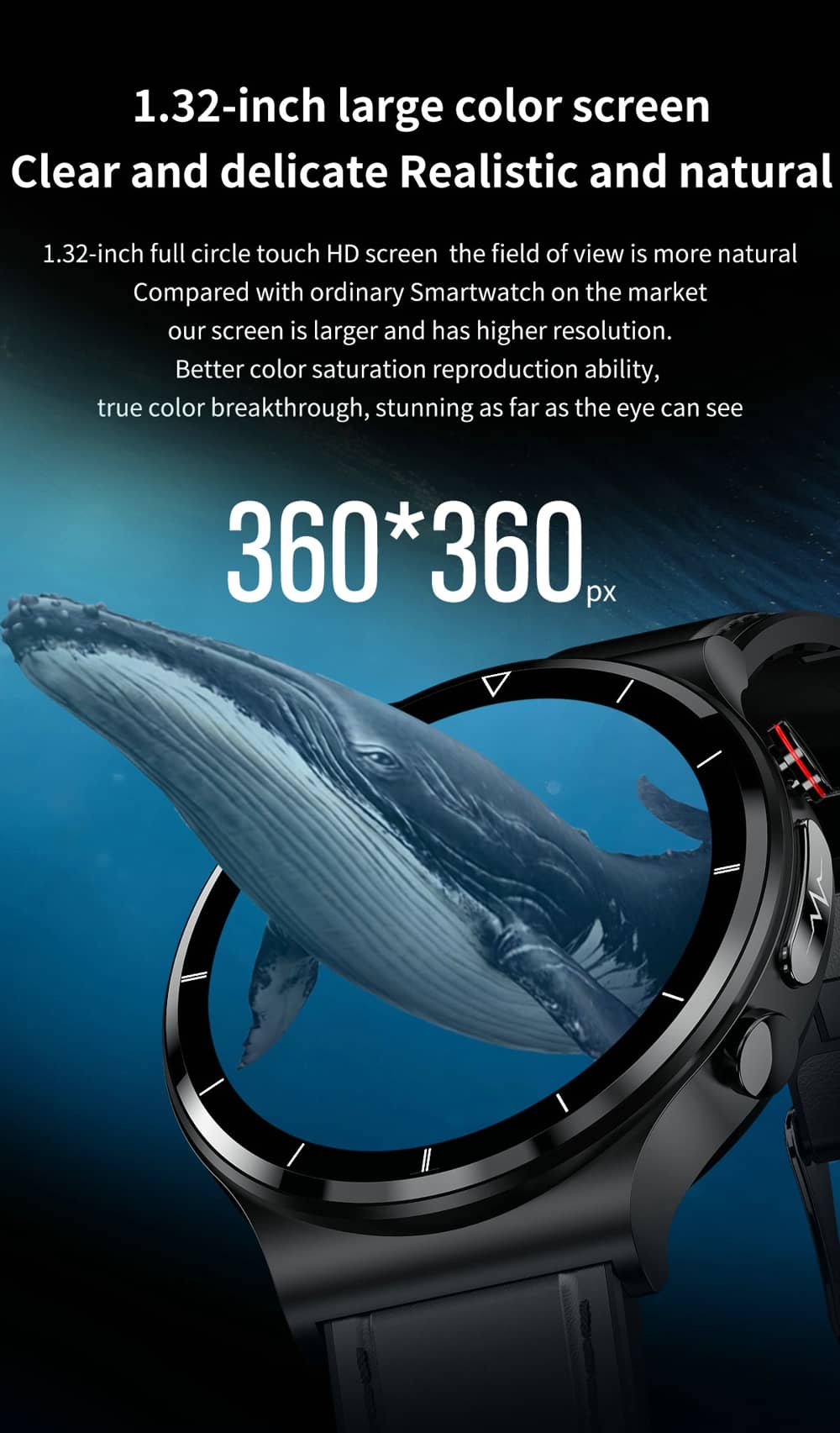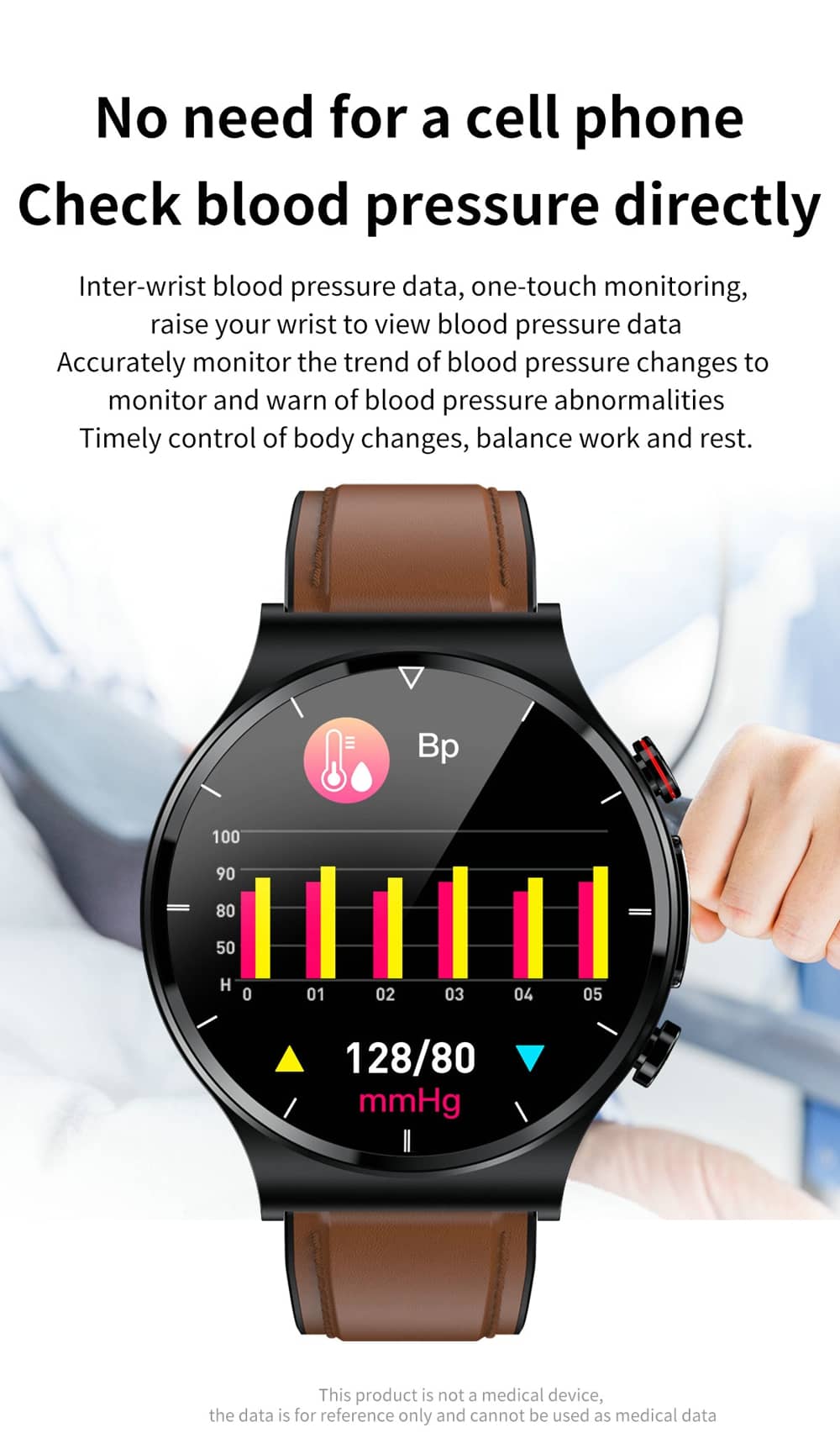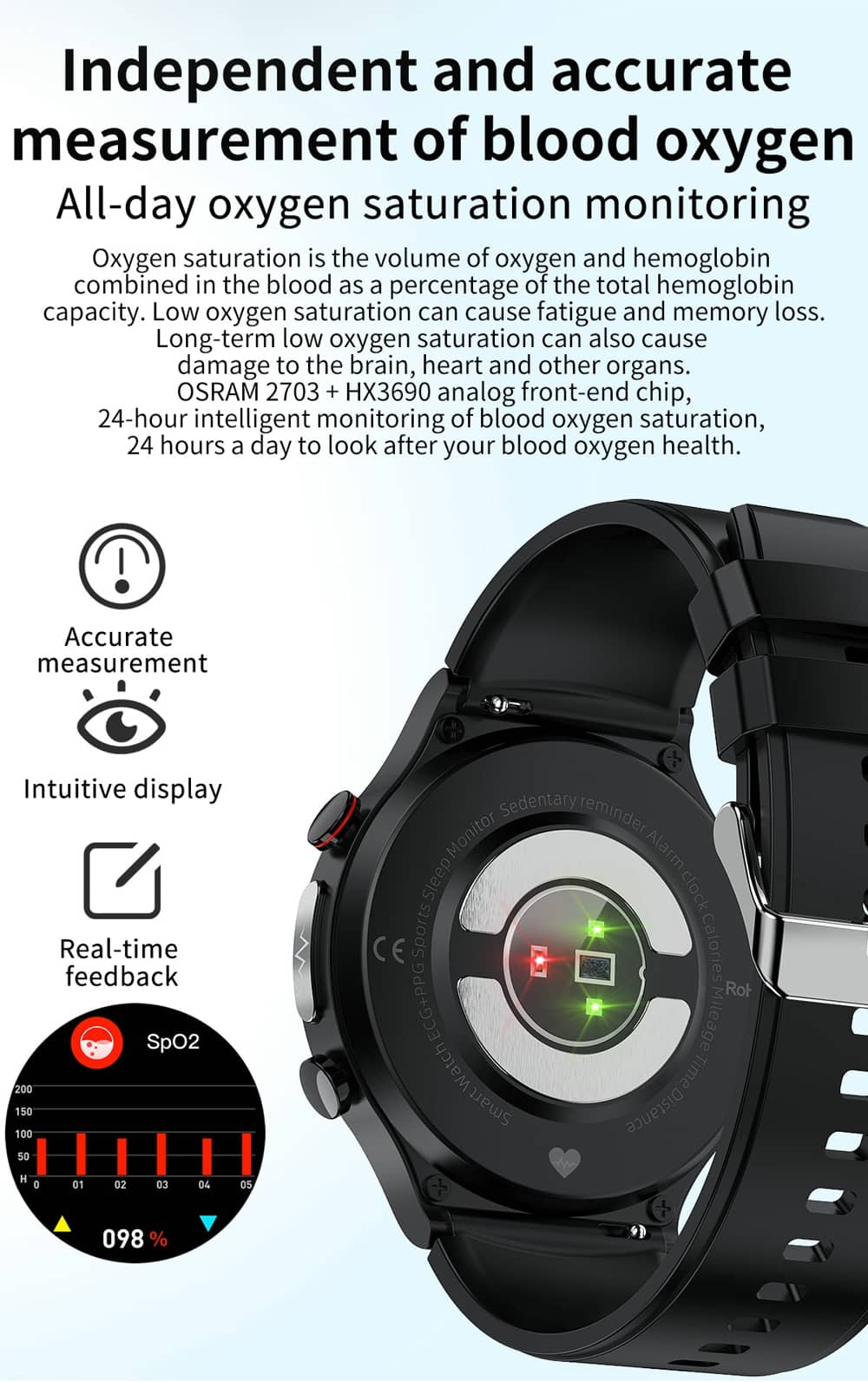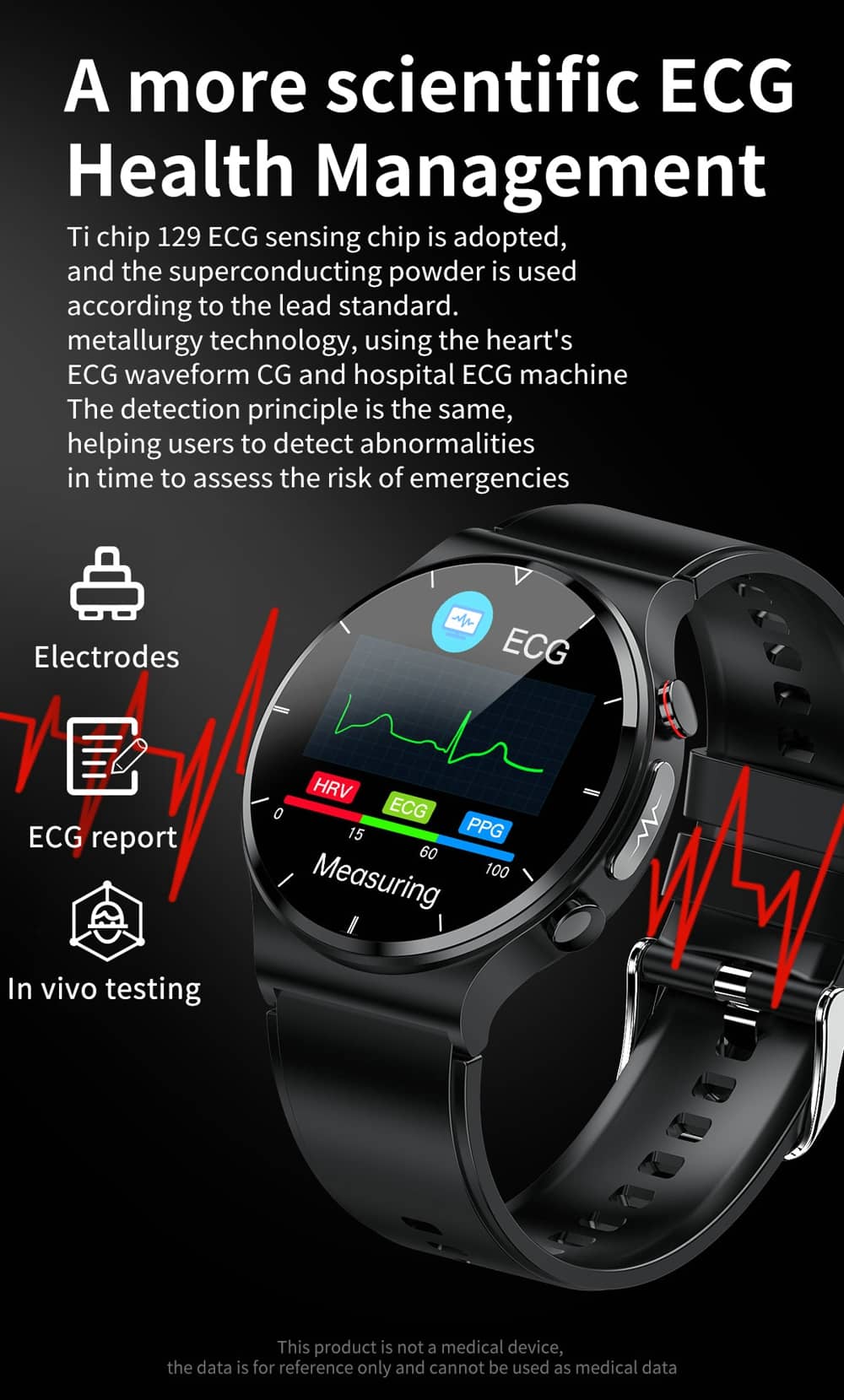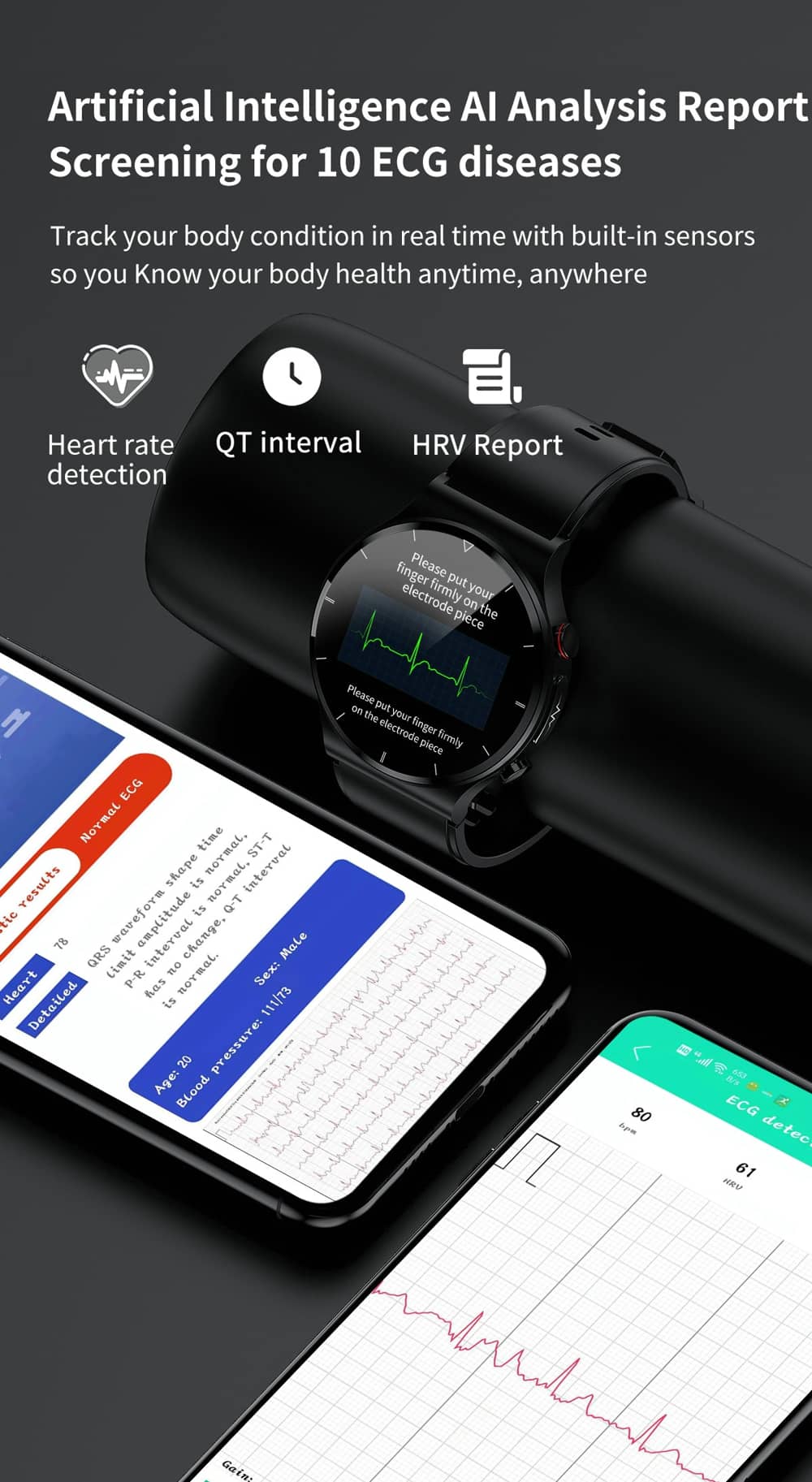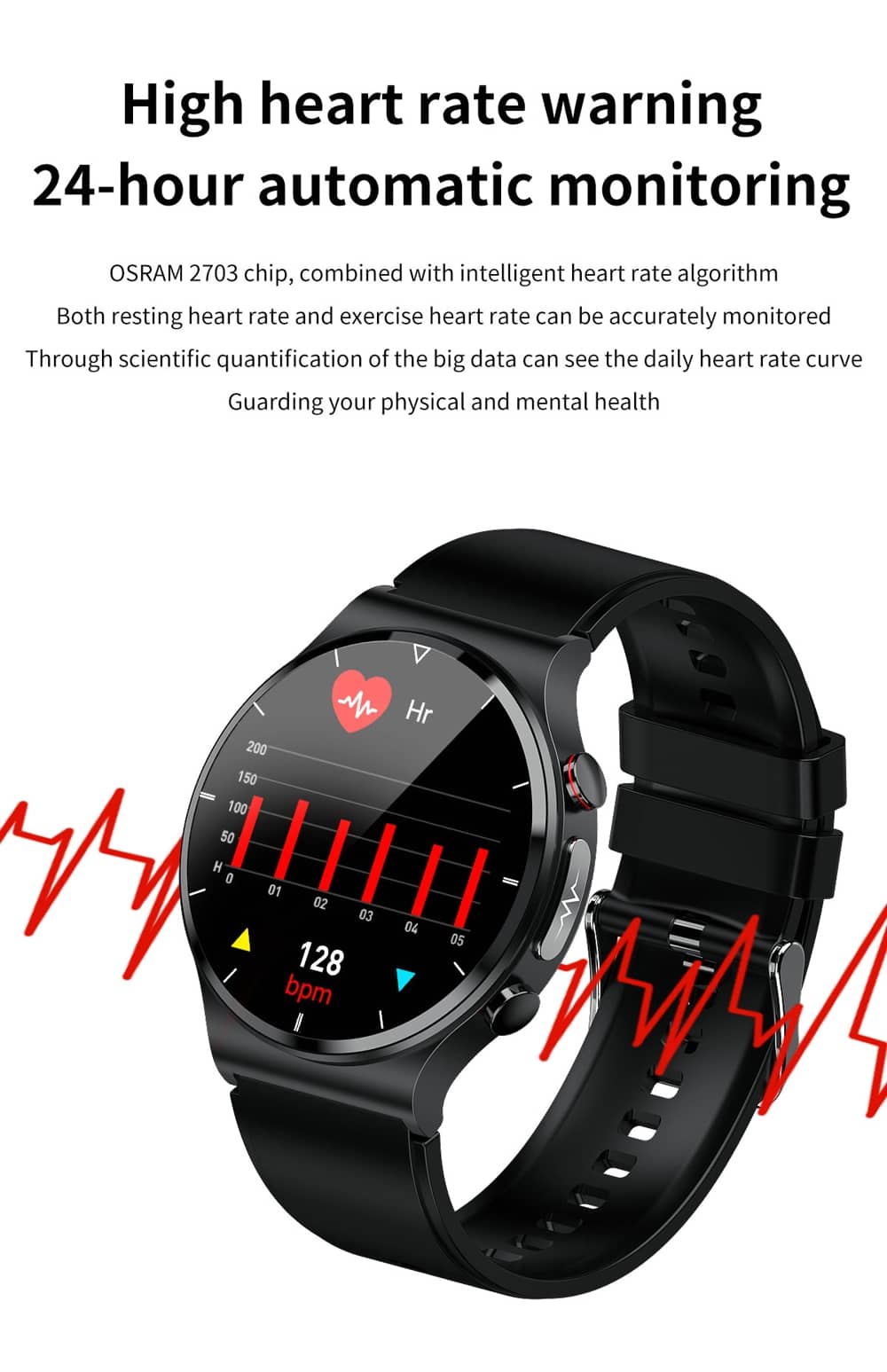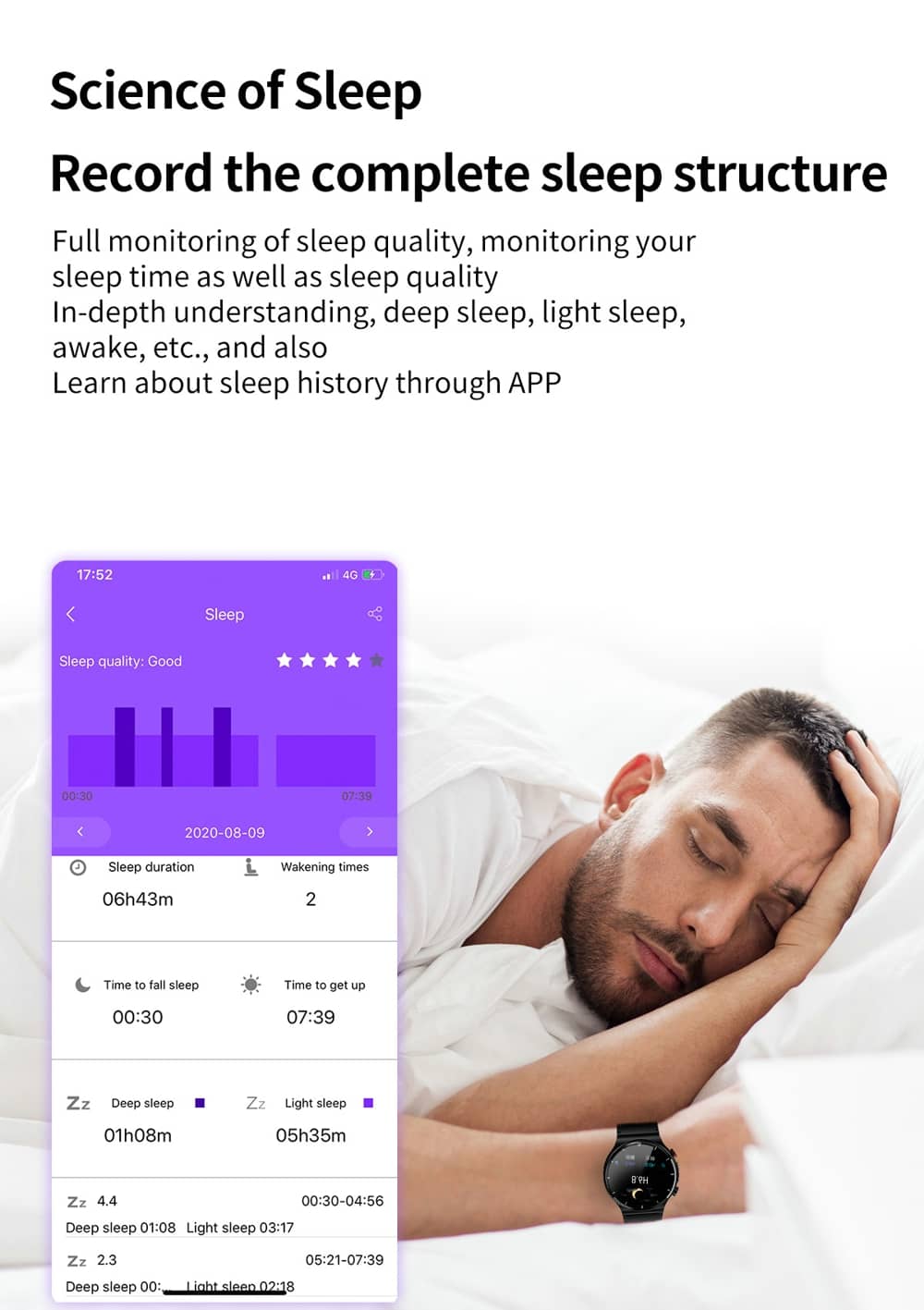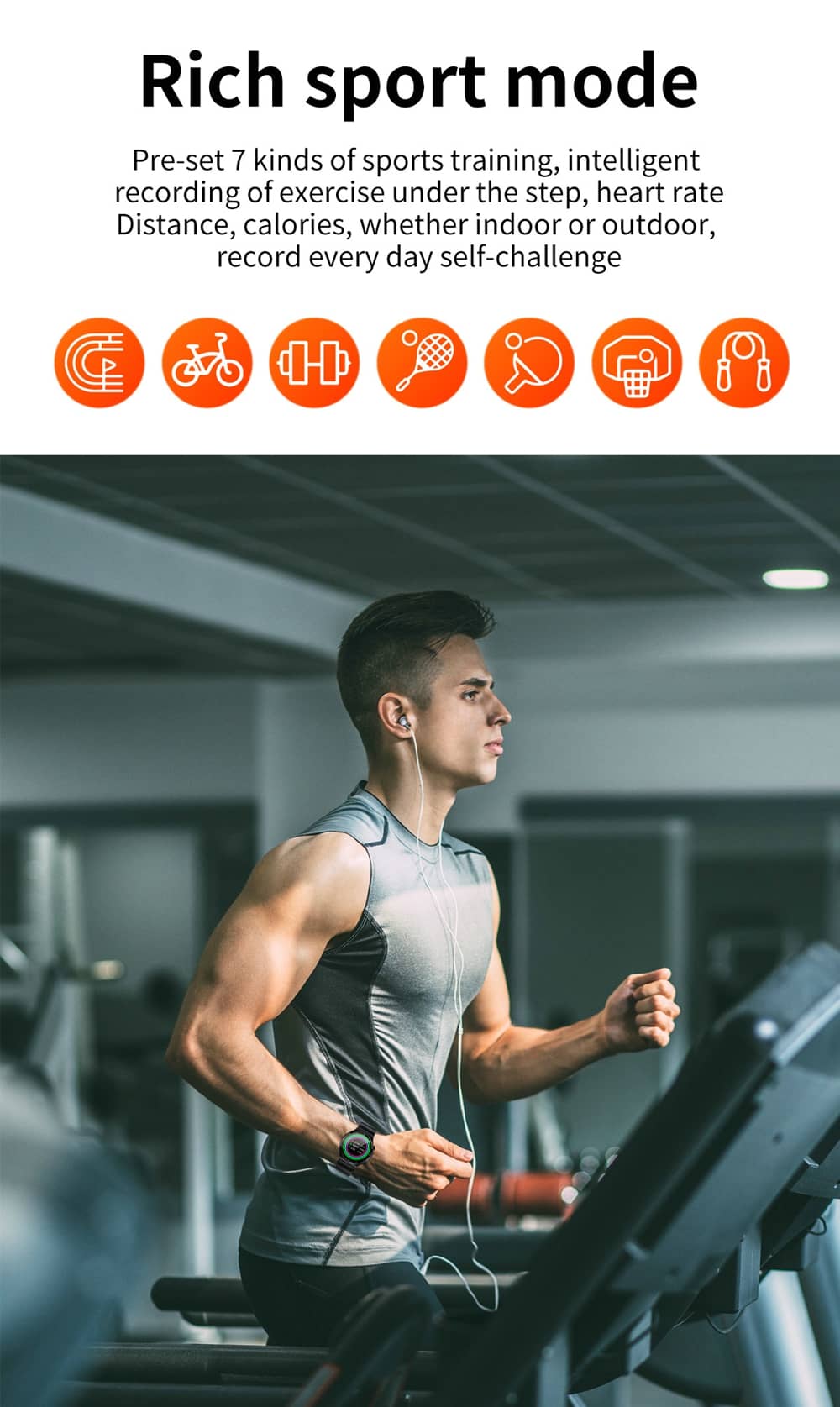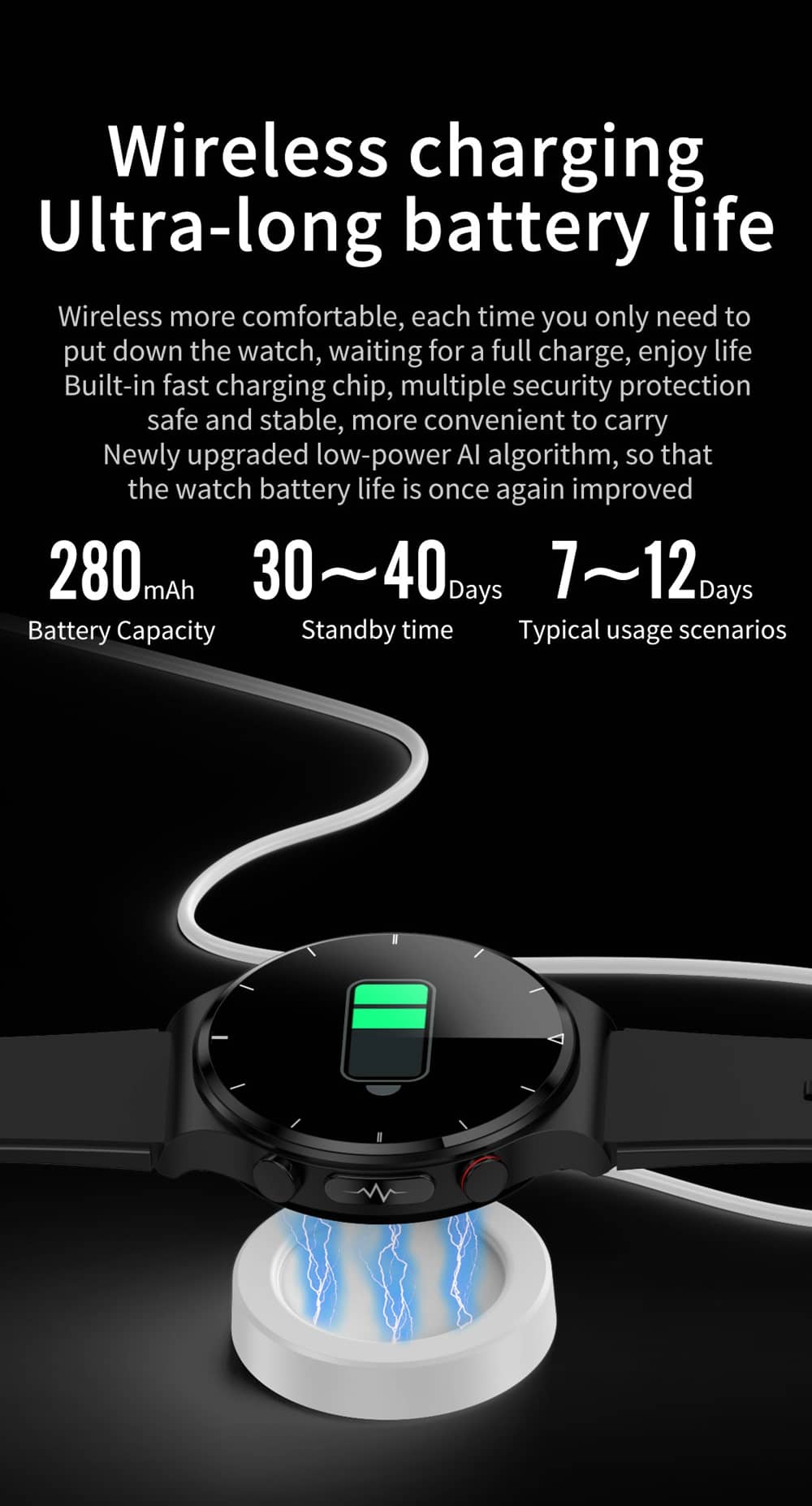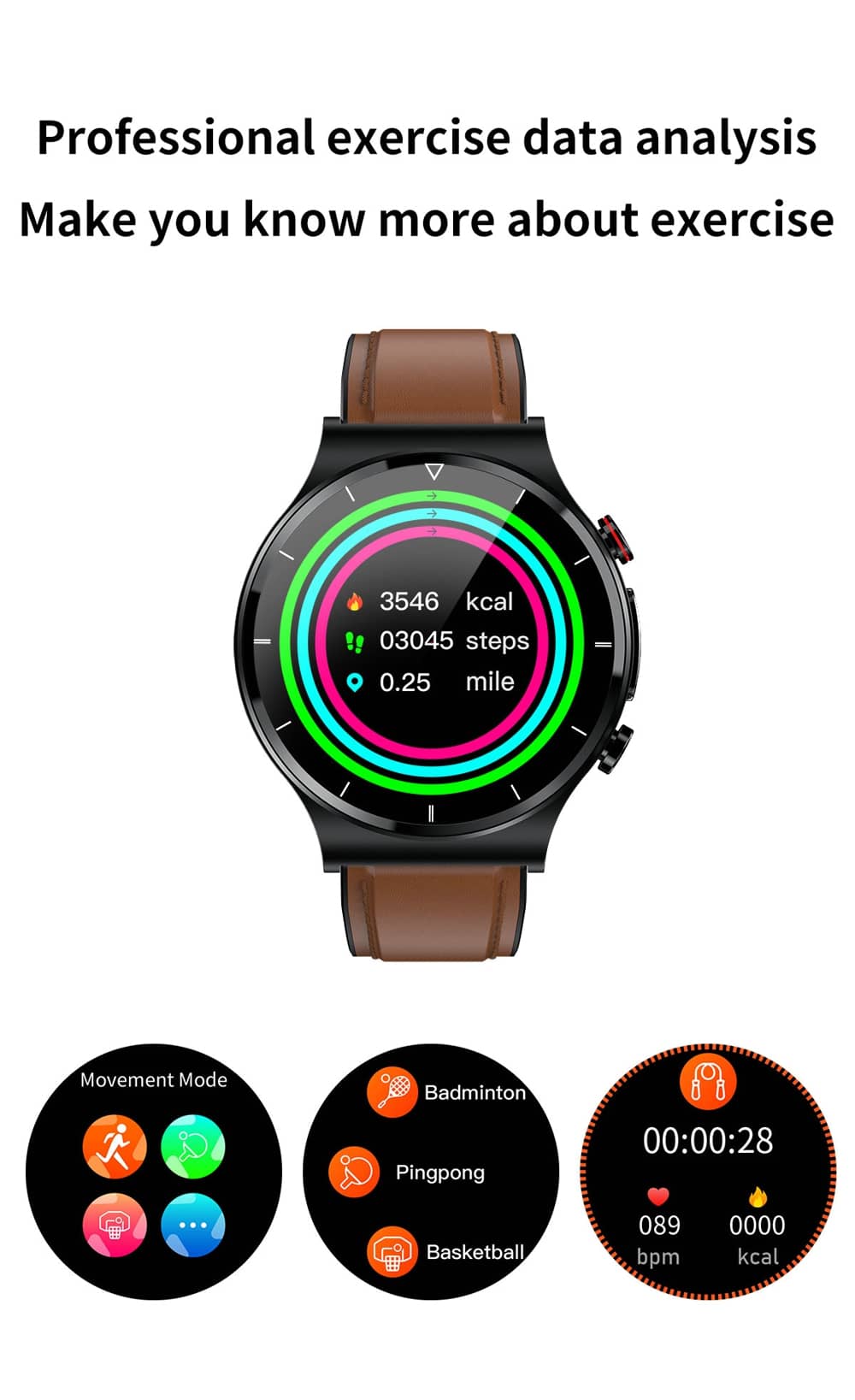 Why choose this Findtime smart watch for men and women?
【HD Touch Screen & Personalized Dials】
1.32″ HD touch screen equipped with 360*360 pixel resolution can provide you with a clearer visual experience. The smart watch available to choose from more dials within the app. You can also personalize your watch face from your photo album.
【ECG Monitoring】
Ti chip 129 ECG sensing chip is adopted,and the superconducting powder is used according to the lead standard. metallurgy technology, using the heart's ECG waveform CG and hospital ECG machine. The detection principle is the same, helping users to detect abnormalities in time to assess the risk of emergencies.
【Health Monitoring at Any Time】
The Findtime smart watch can be measure on your watch, and sync it to the mobile phone APP and pay attention to the physical state at any time. This watch for blood pressure, blood oxygen and heart rate real-time monitoring that record your every health condition with one button operation will protect your physical health all day long. The data is just used for reference actually. (This fitness tracker is not a medical device, the measurement data and results are for reference only, not for diagnosis and treatment basis.)
【Body Temperature Monitoring】
The smartwatch monitors your wrist temperature 24 hours a day with the CT1711 array sensor. Wrist temperature of the human body to grasp their health status anytime, anywhere.
【Sleep Tracking】
How about your sleep condition? This fashion smart watch with sleep tracking make you refreshed and meet new challenges. It can monitor the deep sleep, light sleep and wake up time through check the sleep trend from the APP. Help you improve your sleep habits and get better sleep.
【Respiratory Rate Monitoring】
One rise and fall of the chest is one breath, i.e.one inhalation and one exhalation. The number of breaths per minute becomes the respiratory rate, through which the body breathes in and out oxygen and carbon dioxide Inhale oxygen and exhale carbon dioxide to maintain the normal function of the lungs. In adults, the respiratory rate is 12~22 times per minute when calm.
【Track Daily Activity & 7 Sports Modes】
The fitness watch supports 7 professional sports modes such as high-intensity interval training such as running, cycling, basketball, etc. Accurately monitor and analyze key exercise data such as heart rate, pace, and calorie consumption to help you improve your workout results.
【IP68 Waterproof】
Suitable for daily use with the IP68 waterproof smart watch, not for swimming or soaking in water. It resists rain and a small amount of splashing from washing your hands and face.
【Message Reminder】
Connect your life from your wrist. Pair smart watch and your mobile phone via V band app to receive calls, SMS and SNS messages (Facebook, Wechat, Whatsapp, Skype, Line, Instagram, Twitter, ect.). This smart watch will be vibration remind let you no longer miss any important affairs. You can also hang up incoming phone calls straight from your wrist. When the mobile phone calls or receives a message notification,even if the mobile phone is in the bag or busy without paying attention. When the phone rings, the watch will vibrate to remind. Let you know important notices in time.
【Magnetic Charging & Long battery life】
Low battery anxiety?Let it go away! Findtime smart watch equipped a convenient magnetic charging USB cable, 280mAh lithium polymer battery. It can ensure 7-12 days of normal usage and 30-40 days standby without frequent charging. Let you wear it without worries. Get rid of battery anxiety to accompany you around.
【Nice Gift Choice】
Watches are the ideal gifts with luxury box for families and friends, such as Birthday, Christmas, Valentine day, New Year, Father's Day, Mather's Day…
【Smartwatch for Android IOS phones】
Findtime fitness watch for men and women is compatible with smart phones that use Android 4.4 & iOS 8.2 and above, not for PC or tablet, only for mobile phones with Bluetooth 5.0 and above.
App:  V band
Function:
– Exercise Record (step counter, distance, calorie calculation)
– ECG Monitoring
– Heart Rate Monitoring
– Blood Pressure Monitoring
– Blood Oxygen Monitoring
– Body Temperature Monitoring
– Sleep Monitoring
– Remote Care
– Alarm Clock
– Camera Control
– Music Control
– Weather Forecast
– Incoming Call
– Sedentary Reminder
– Message Reminder
– Find Phone
– Stopwatch
Material:
Enclosure: Metal alloy+Stainless Steel
Bottom Shell: PC+ABS+ Medical 316 Steel
Strap: Environmental Protection TPU Strap
Specification:
– Case Dia 46MM(1.81″)
– Case Thickness 11.6MM(0.45″)
– Max Perimeter 265MM(10.43″)
What's in the box?
1 * Health Smart Watch
1 * Magnetic Charging USB Cable
1 * Luxury Watch Box
1 * English Instruction
FAQ:
Notes:
Please upgrade to the latest software version for a better experience when there is an update prompt on the APP.
The APP language automatically switches languages according to the system.
Smart watch data can't use for medical purposes. The monitoring data is for reference only. If you need medical help, please contact a professional doctor.
For daily wear, wear the watch about one finger distance from the wrist bone, and adjust the tightness of the strap to a comfortable position.