【GREEN LIGHT DISPLAY】Green Big Number display will protect eyes of driver, and it will not dazzle the eyes during the day or night, let driver feel more comfortable, especially for long distance driving.

【OVER SPEED ALARM】Over-speed Alarm and fatigue driving alarm to ensure your safe trip.Default setting is 120KM/H or 120MPH. When over-speed alarm is active, it will beep in 3 times to alert the car driver, you can adjust according to whether you need overspeed alarm.

【DISPLAY IN GPS MODE】 Accurate positioning and real-time synchronous display of data. Display Driving speed, time, voltage, driving icon, Driving mileage, automatic light adjustment, alarm sound switch, satellite number, Altitude, compass , automatic switch.

【PLUG & PLAY】 Easy to Set up, no complicated operation required. Only connect with USB cable, no professional installation is required. Compatible with all kind of cars & trucks, ect.

【WORKS FOR ALL VEHICLES】 Please use it within 5v. Adopt GPS mode, M1 could work for ALL vehicles, you don't need to worry about compatibility.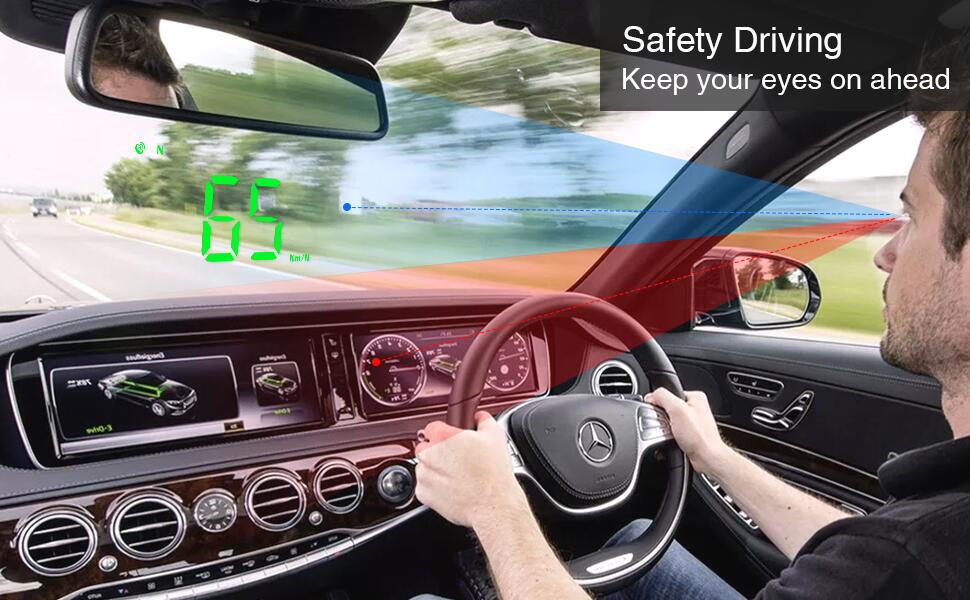 M1 Main Functions:
GPS speedometer: collecting real time speed from GPS satellites

Driving time and distance calculation and display

Plug & play: Power through vehicle cigarette outlet jack, no professional installation is required

Display MPH or KM/h – Simple push button set up

Light sensor: HUD can automatically adjust the brightness according to the environmentfor day & night-time driving

Over-speed warning: 3-second alarm beep and display flash will warn driver 93 beeps for over speeding alert)

Alarm mute function

Compass: N (North) E (East) W (West) S (South)

Universal: compatible with all cars, trucks, bikes, & motorcycles.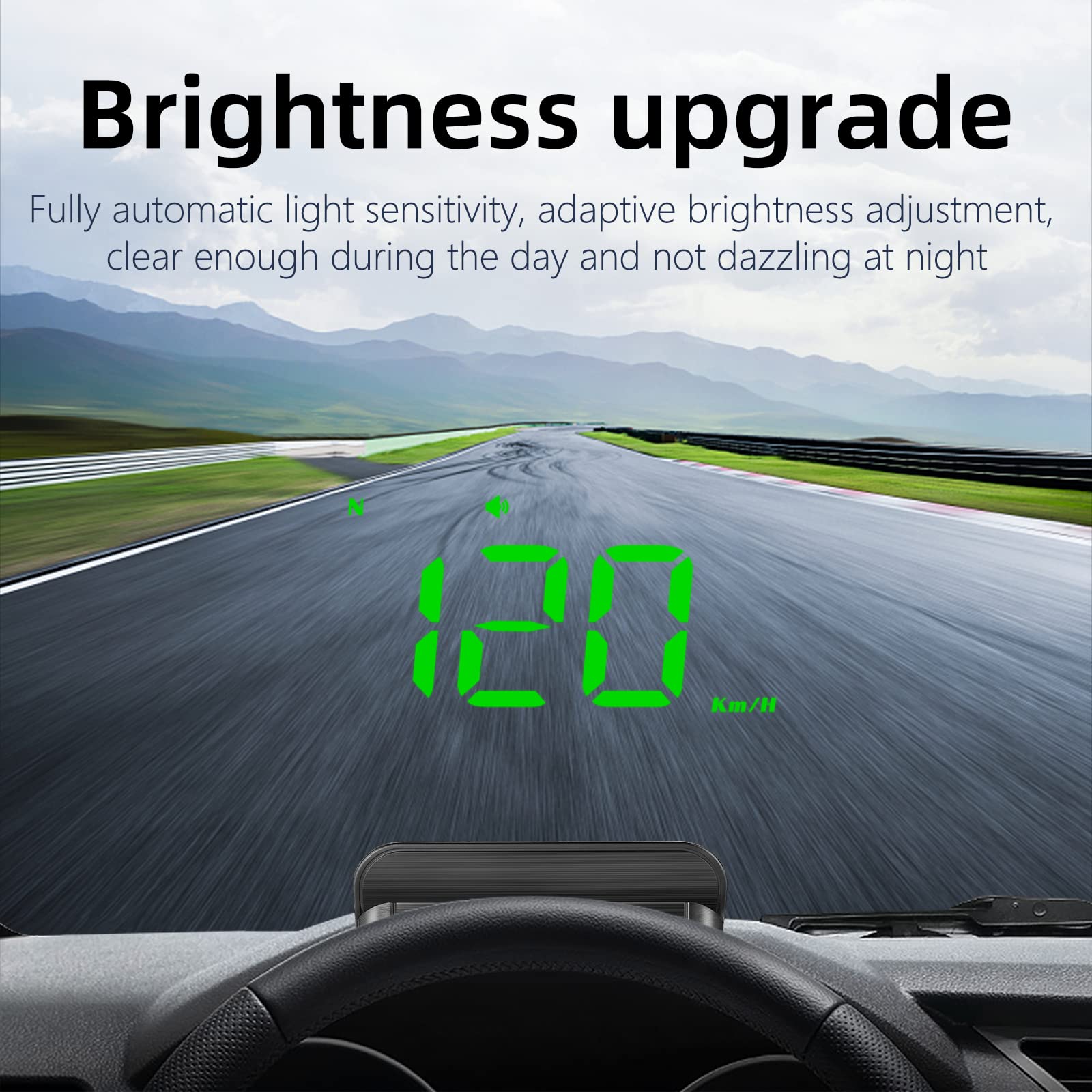 Please note:
1. GPS speedometer M1 is to receive GPS satellite signals to work, but it can't work in the house, tunnel and garage where can't receive satellite signals, please drive the car to an open place to accept the signal.
2. Accept GPS satellite to display speed data, so sometimes the value will be slightly deviated, just manual calibration can be. You can consult us through amazon platforms or view the FAQs in the brochure.
3. After the power is turned on, it will take a few minutes to receive the satellite signal before the data can be displayed. Please be patient.
4. The product does not have a power storage function, and all driving data except the total mileage will be cleared after the power is turned off.
Warning: This product working voltage is 5V, and it is forbidden to use a voltage higher than 5V for power supply.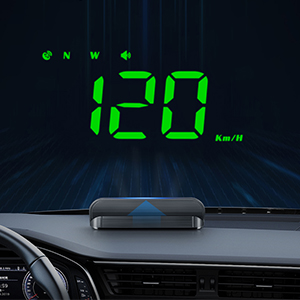 Large fonts, High-definition experience
The front side adopts metal nanotechnology to eliminate unnecessary reflections and make the picture display clearer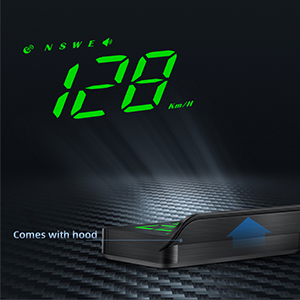 Comes with hood, Integrated design Cover the lights of the display panel, no dazzling when driving at night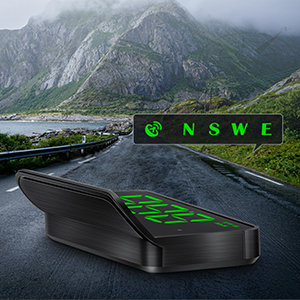 GPS compass Not lost direction Display the forward direction while driving, so that your journey is not yaw N-North, S-South, W-West, E-East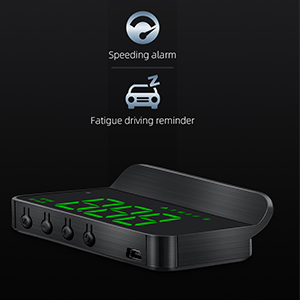 2 alarm functions Improve driving safety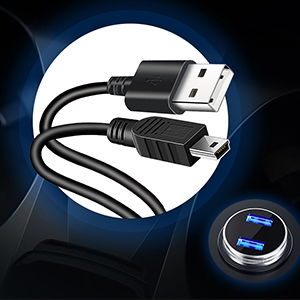 USB power supply 0 power consumption
Using car USB (5V) or cigarette lighter to USB power supply, truly zero power consumption. USB or cigarette lighter is a short power, the car is turned off and the power is cut off, there is no the phenomenon of power stealing, and OBD is a long power.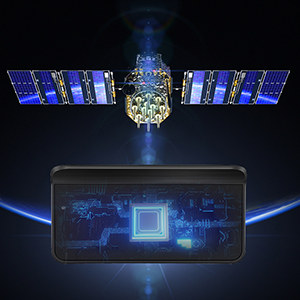 GPS+Beidou dual-mode chip
Using 10 Hz high refresh rate GPS + Beidou dual-mode chip. The refresh rate is 10 frames per second, and the vehicle speed is refreshed quickly without delay
GPS display FAQ:
1.The screen without any display, and no power
Check whether the USB cable is damaged, replace the USB cable for testing, and prohibit the use of voltage higher than 5V for power supply
2.Without car Speed
After HUD power-on, the satellite icon flashes will start to find the satellite. Please driving the car to the road. It will work after it stops flashing
3.Inaccurate Speed
a.First check the speed unit is correct or not, the speed unit including KM/H and MPH, please refer to the setting to switch the unit.
b.The car manufacturers usually make the dashboard speed 5-7% higher than the ECU. The international standard is based on satellite data.
(if the dashboard shows 100, and the device shows the 105, change the default value at 102)
4.Driving direction display error
After the vehicle speed exceeds 5KM / H, the direction can be displayed normally.
5. Speed is still displayed after the car stops
Under the underground parking lot, tunnel, under the overpass, there will be unstable satellite drift when there is obstruction.
6.Turn off the buzzer
Push left for 2 seconds to turn off the buzzer, do it again to turn on.
If you have any questions about the product, Please consult us, we will reply within 24 hours, thank you!